Floor Mats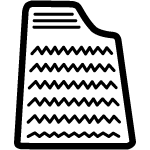 Proper size and correct installation
Improperly installed floor mats in your vehicle may interfere with the operation of the accelerator or brake pedal, increasing the risk of a crash.
Remove old floor mats before the installation of new mats; never stack mats.
Use mats that are the correct size and fit for your vehicle.
Follow the manufacturer's instructions for mat installation. Use available retention clips to secure the mat and prevent it from sliding forward.
Every time the mats are removed for any reason, verify that the driver's mat is reinstalled correctly.